The 5 Different Types of Belt Every Man Needs in His Wardrobe
Some of the most stylish accessories every man needs in his wardrobe are belts, and there are many different types to choose from. From casual leather belts to dressy silk belts, let's take a look at five different types of belt every man needs in his wardrobe and how to wear them best!
1) The Classic Belt
The classic belt is a must-have for every man. It's versatile, stylish, and can be worn with just about anything. A black or brown leather belt is perfect for the office, while a colored or patterned belt can add a pop of personality to your look. And don't forget the all-important rule: your belt should always match your shoes.
Belts are an essential fashion accessory that help to bring your outfit together. Not only do they create a more polished and professional look, but they can also be used to help accentuate your silhouette, as opposed to how baggy clothes tend to make you look. This makes them perfect for dress pants and ties; if you need some tips on wearing a tie, here's a guide. Although you should always strive for versatility when shopping for accessories such as belts, it's important not to get overwhelmed by all of your options.
If you're looking for a belt to wear to work, you can't go wrong with a classic black or brown leather belt. These options pair perfectly with dress pants and provide an extra touch of elegance to your outfit. If you want something a little more fun, though, consider adding a colored or patterned belt to your wardrobe.
2) Metal Buckle Belts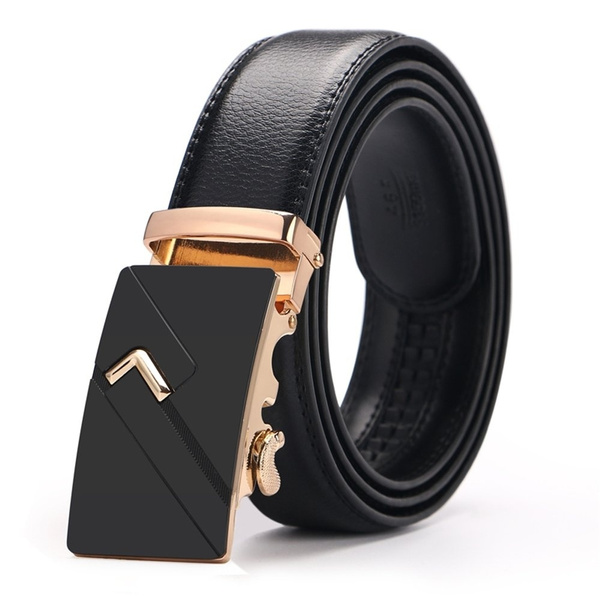 Metal buckle belts are the most stylish and fashionable type of belt. They can be worn with jeans or dress pants, and they always look cool. If you're looking for a metal buckle belt, make sure to choose one that's the right size for your waist. You don't want it to be too big or too small.
Another great thing about metal buckle belts is that they go with almost anything. You can wear a black metal buckle belt with your work attire, or you can wear it with your cool pair of jeans and be trendy. Whatever you do, make sure to pick a metal buckle belt that fits right and looks good on you. And remember: never buy one for your child, because a belt like that will look really silly on him. He should choose one himself when he's old enough to have his own tastes and fashion sense. That's something every man should have.
And if you're going to buy one for yourself, go for a brown leather metal buckle belt. It's a great option, and it goes with just about anything. But keep in mind that you shouldn't wear a brown metal buckle belt if you have a brown wallet or shoes, because that would be too much brown for your outfit.
3) Slip-On Belts
A slip-on belt is the most basic type of belt. It's cool and easy to wear, but it doesn't provide much support. If you're looking for a belt to hold up your pants, this isn't the one for you. But if you just need something to keep your jeans from falling down, a slip-on belt will do the trick.
A slip-on belt looks like a normal belt, but it doesn't have buckles. Instead, you just slip it through your jeans' loops and voila! It's ready to wear. They're great for people who don't wear belts often because they're so easy to use. Since they're not adjustable, however, make sure you get one that fits now because they can't be resized later.
A belt loops is just what it sounds like—the loop you slip your belt through to hold up your pants. Belts with belt loops are great for casual wear, since they're easy to slide on and off. They have buckles, so you can adjust them to make sure they fit just right. If you need a pair of belts for semi-formal wear, these are great options because they'll look more polished than regular belts without breaking out an entire dress belt set.
4) Flexible Leather Belts
A good, flexible leather belt is a must in any man's wardrobe. Not only does it look great with a pair of jeans or chinos, but it's also versatile enough to be worn with a suit. Plus, a leather belt will only get better with age, so it's worth investing in one that will last you for years to come.
This is one item where you should avoid cheap, flimsy varieties. Leather will be a lot easier to work with if it's been made from good-quality leather, and it'll also look better for longer. Investing in quality leather is well worth your money—you'll see its value increase every time you wear it. And make sure that your leather belt comes with a sturdy buckle, as many cheaper options simply won't last you very long.
The flexibility of a leather belt makes it more comfortable to wear than other materials, and it should mold to your waist as you put it on. This kind of belt looks great paired with tailored pieces—I've been wearing mine with my navy suit, for example—but is also at home under jeans or chinos. If you're looking for something that can be worn both casually and professionally, then a flexible leather belt is your best option.
5) Webbing Belts
A webbing belt is a casual belt made of, you guessed it, webbing material. They're usually adjustable via a simple buckle, and they come in a variety of colors and widths. You can wear them with jeans or shorts for a casual look, or dress them up with chinos or slacks for a more put-together appearance.
Webbing belts can be made from a variety of materials, including leather or suede. They typically don't have holes for adjustment; instead, they can simply be tied to fit your waist. The most common color is black, but you can also find them in brown and other dark shades. Some will come with silver buckles that really stand out, while others may feature embossed designs or textured finishes to give your outfit some visual interest.
Because webbing belts are so easy to adjust, they can make your closet more versatile. They're great for wearing with a variety of different outfits and styles. Plus, they're generally cheaper than other types of belts, which is another reason to consider adding one to your collection. Their versatility and affordability make them an excellent addition to any man's wardrobe.