The Different Styles of Men's Curly Hairstyles
Your curly hair can be one of your greatest assets or one of your worst enemies. Regardless, it's worth it to take the time to learn how to style it properly and make the most of what you've got. Check out this list of different men's curly hairstyles that will help you create a great look for your hair type, face shape, and personality.
1) The spiky hair
Spiky hair is a very popular and stylish hairstyle for men. It is easy to achieve and maintain, and it looks cool and trendy. To style your hair in this way, you will need to use a good quality styling product. Apply the product to damp hair, then use a comb to create spikes. You can make the spikes as big or small as you like. For a more casual look, allow some of the spikes to fall down onto your forehead.
You can enhance your spiky hair by adding a hair color. You can make some strands bright red or green, or add highlights that match your skin tone. This look is great for young men who want to look stylish but not too formal. Spiky hair also works well with longer styles such as man buns and ponytails. It adds an edgy touch to these more elegant hairstyles, which makes them perfect for older men looking for a trendy appearance without taking it too far. Spiky hair suits all face shapes and lengths of hair, although men with long faces should avoid long spikes on top since they draw attention to their chins.
2) Long, loose curls
Long, loose curls are a stylish and cool option for men with curly hair. You can wear your hair down or in a ponytail, and it looks great both ways. To get this look, simply let your hair air dry after washing it. If you want to add a little definition to your curls, you can use a diffuser on your blow dryer. When it comes to styling products, less is more. Use a light-hold gel or cream to tame any frizz and define your curls.
If you're not in a hurry, go ahead and let your hair air dry. It's a great way to reduce frizz and keep your curls looking natural. Once you've washed your hair, use a diffuser on low heat to dry your hair. For added control, use a light-hold gel or cream on wet hair for taming any flyaways and frizz. You can also add some waves by scrunching up some mousse into wet hair before drying it with a diffuser or letting it air dry. A little goes a long way with styling products, so don't overdo it on application.
3) Mid-length, textured curls
Mid-length, textured curls are a cool style for men with curly hair. This look is achieved by cutting the hair short on the sides and back, and leaving it longer on top. To style, use a product that will add texture and hold, like a pomade or wax. Start with damp hair, and work the product through from root to tip. Once you've got the desired look, finish with a hairspray to keep everything in place.
This style works well with a variety of face shapes. To complement a rounder face, focus more on keeping your sideburns short to make your hair seem longer. A square face can be balanced out by focusing more on volume through your top layers. Finally, an angular face shape can be softened with a voluminous look that is kept away from any hard edges.
4) Curls with flow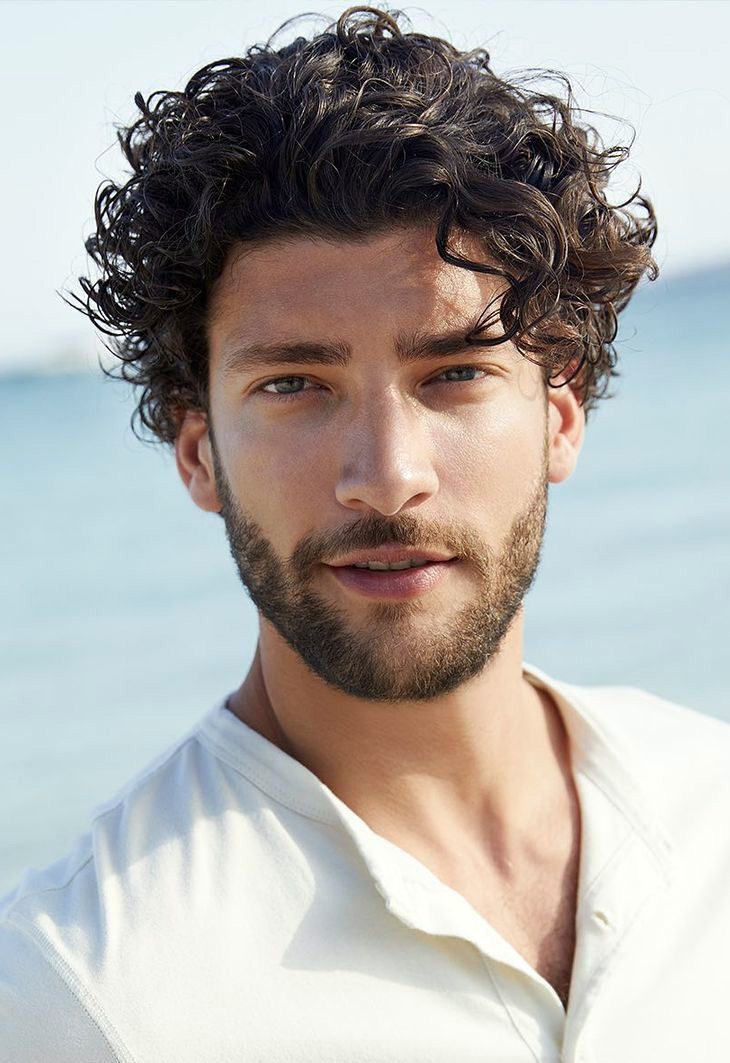 When it comes to curly hairstyles for men, the options are endless. You can go for a natural look with your curls flowing freely, or you can style them in a more polished way. The important thing is to find a style that suits your personality and face shape.
If you want to try different hairstyles with your curly hair, start by examining your face shape. For example, if you have an oval-shaped face, you can play around with styles like a side part or quiff to create some height and contrast. Square faces look good in longer fringes that can be swept up into a pompadour or combed back for a more relaxed look. Round faces are also great candidates for long fringe hairstyles and quiffs as they give more length and structure to balance out roundness.
5) Wavy cut with fringe
A wavy cut with fringe is a great hairstyle for men with curly hair. The waves help to add texture and volume, while the fringe can help to frame the face. To style this look, start by applying a volumizing mousse to damp hair. Then, use a diffuser to dry your hair while scrunching it with your fingers. Once your hair is dry, use a small amount of pomade or wax to piece out the waves. Finish by spraying with a light-hold hairspray.
This is a great hairstyle for men with curly hair because it lets you keep your waves looking natural. If you want to create some height and volume, blow dry your hair in sections from back to front. You can also use a bit of texturizing spray before blow drying. A wavy cut with fringe will take some time to grow out, so be sure to have realistic expectations before getting it cut. When growing out a hairstyle like this, use products that contain moisturizers and hydrators, such as curl enhancers and serums. These products help prevent split ends while helping to soften your hair as it grows longer.
Don't brush curly hair: Never brush curly hair unless absolutely necessary!
6) Tapered fade undercut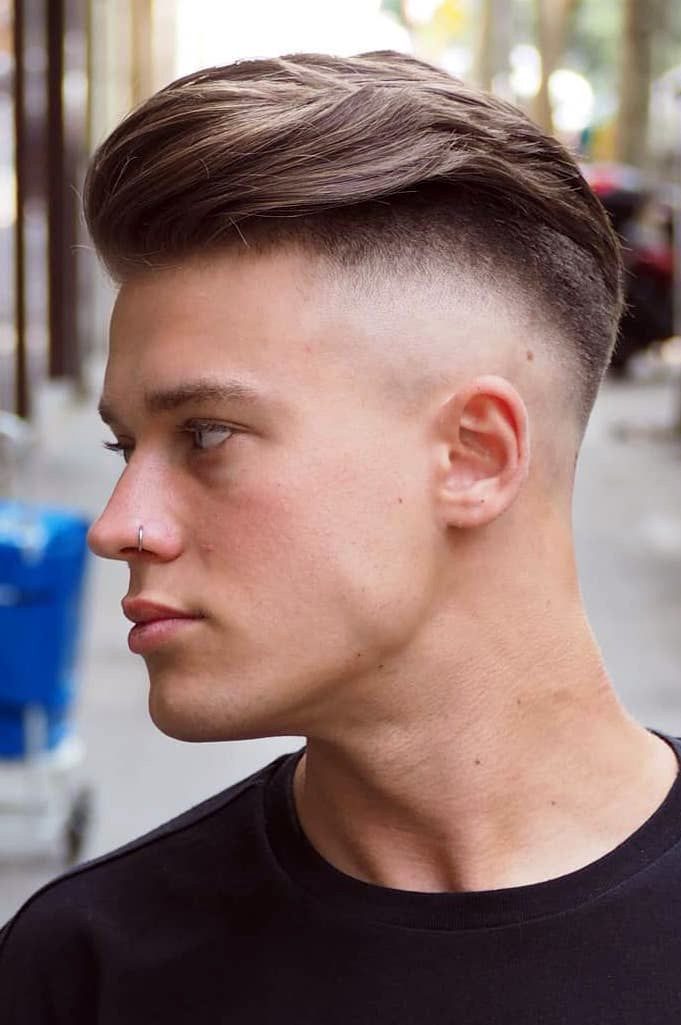 The taper fade undercut is a great choice for men with curly hair. This style starts with very short hair on the sides and back, which is then tapered up to a longer length on top. The curly hair on top is then styled into a quiff, pompadour, or other hairstyle. This look is easy to style and maintain, and it can be dressed up or down depending on the occasion.
An undercut is a great option for curly hair as it leaves you with more versatility when styling your hair. The longer length on top can be worn in many different ways and combined with multiple hairstyles to help keep your look fresh and fun. This look is also fairly low-maintenance, although it does require regular trims every few weeks to ensure that the layers stay neat and tidy. If you like to wear your curly hair longer, then you'll need to be careful about styling too much volume into it as doing so will weigh down your curls and leave them looking lifeless or frizzy. Picking a style that works well with your natural texture can help solve these problems, while still allowing you to experiment with different looks.