How to Choose the Perfect Formal Footwear for Girls
Formal footwear isn't just about the style and color, but also about comfort, fit, and durability. For this reason, choosing the right shoes are important whether you're looking for casual or formal footwear. If you don't have time to shop around, knowing how to choose the perfect formal footwear can help you find the pair that will work best with your style, personality, and budget. Here are some tips on how to choose the perfect formal footwear for girls
The best formal shoes for young women
It can be difficult finding the perfect formal footwear, especially when you're a young woman. You want something that looks good, but is also comfortable. Here are three great options: formal boots for girls, formal sandals for girls, and formal shoes for girls. Each has its own benefits, so choose the one that's right for you.
Formal boots for girls tend to be close-toed and come in a variety of styles. You can choose knee-high boots, ankle boots, and thigh-high boots that match your outfit perfectly. Of course, these are also great with formal dresses as well. Many formal boots come with buckles and straps that you can use to adjust them to your comfort level and height. These formal shoes for women look great with everything from casual or semi-formal outfits like khakis and blazers to more formal wear like gowns or cocktail dresses. They're particularly popular during colder months when you need something warm but don't want clunky winter footwear clunking around at your next gala event.
Lace Up Shoes
When it comes to choosing formal footwear for girls, there are many different types of shoes to choose from. One of the most popular choices is lace up shoes. Lace up shoes come in a variety of styles, including boots, sandals, and flats. They can be made from a variety of materials, including leather, satin, and suede.
The type of material you choose will depend on your style preferences. If you're looking for a look that is simple and classic, leather lace up shoes are a good choice. Leather shoes tend to be more formal than other materials, so they're perfect if you have an important business dinner or event. Leather is also comfortable and can be worn in all weather conditions because it can breathe. If you want something a little more unique, consider suede shoes or boots with intricate designs. These won't look out of place at a formal event but they offer something just a little different from what everyone else is wearing. Suede tends to be very soft, so it's easy on your feet and looks great when worn with jeans or slacks.
Mary Janes
A classic style of shoe, Mary Janes can be both comfortable and stylish. They can be found in a variety of colors, but black and brown are the most common. Pair them with a cute dress or skirt for a more formal look, or jeans or shorts for a more casual look. If you're looking for something a little more unique, try pairing them with patterned tights.
Black and brown are a little more understated, but if you have a special event coming up, like prom or graduation, don't be afraid to try something bolder.
As with anything formal, make sure your shoes are polished and clean before you wear them. It can be tempting to go with something that's a little scuffed up or a cheap knockoff, but don't do it. While it might be cheaper in the short term, you'll feel self-conscious if they look bad—and no one wants to feel self-conscious at a special event. You can always take care of any scuffs or marks at home before you walk out of your door.
Closed-Toe Heels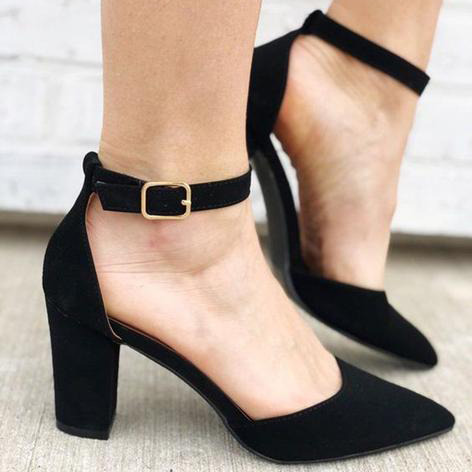 Whether you're opting for classic black or a more festive color, closed-toe heels are always a good choice for formal events. If you're looking for something a little more unique, try a pair with intricate details or embellishments. As far as comfort goes, try to find a pair with a lower heel and cushioned insole—you'll be standing (and dancing) all night long.
As far as fit goes, you'll want your heels to be snug without being too tight. Standing all night in poorly fitting shoes will wreak havoc on your feet and legs, not to mention make dancing more difficult. If you're worried about what a heel height looks like on you, try pairing a lower heel with flats or wedges and going from there. A few cute pairs of heels don't hurt either.
High Heels
Every girl needs a pair of high heels in her closet. They are the perfect go-to shoe for any formal occasion. But with so many different styles of high heels, how do you know which ones to choose? Here are a few tips:
-If you are going to be wearing your shoes for a long period of time, make sure they are comfortable. Look for a pair with a low heel and good arch support.
-For a more sophisticated look, try a pair of formal boots for girls. These can be worn with dresses or skirts and will add an extra touch of class to your outfit.
-Formal sandals for girls are another great option. They are perfect for warmer weather and can be dressed up or down depending on the occasion.
Make sure you try on a few different pairs of formal shoes and walk around in them. This will help you get a better idea of how they feel, which will make it easier to determine if they're right for you.
5 Tips to choose the right pair of shoes For your outfit
1. Consider the color of your shoes. Black, brown, and nude shoes are always a good choice.
2. Consider the style of your outfit. If you're wearing a dress, you'll want to choose a pair of formal shoes or sandals. If you're wearing pants, you'll want to choose a pair of formal boots or shoes.
3. Consider the occasion. If you're attending a wedding, you'll want to choose a more formal boot or shoe. If you're just going to school or work, a less formal shoe will suffice.
4. Consider the weather. If it's raining or snowing outside, you'll want to choose a waterproof boot or shoe. If it's sunny and dry, any type of shoe will do.
5. When choosing a formal shoe for girls, make sure that the heel is not too high. You want to be able to walk in them without feeling uncomfortable. For formal occasions like weddings, make sure they have no heel at all.