Rock in the Romper Dress – How to Style This Summer's Hottest Trend
With the warmer months finally here, it's time to think about letting your skin breathe again after the long winter (and so we can show off our legs). Enter the romper dress, the summer's hottest trend that will make you feel like you're walking around in your PJs all day. Before you jump on board this summer trend though, make sure to follow these tips on how to rock the romper dress this season without looking like you just threw on a shirt and some pants… Here are our top 7 tips on how to style this season's hottest trend!
1) The Versatile Romper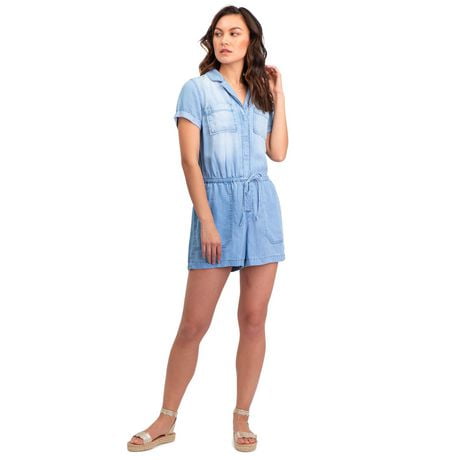 Rompers are having a moment and it's not hard to see why. These beautiful, one-piece dresses are versatile, fashionable, and come in a variety of colors and styles. Whether you're looking for a beachwear romper or a designer dress for a night out, there's sure to be a romper that suits your needs. So don't wait any longer, get out there and rock the romper dress.
Available in a wide range of fabrics, colors, and styles, rompers are versatile. You can wear them to a picnic in the park or out on a Friday night with your friends. Some look like sundresses while others fit like dresses, but they all offer comfort that women want when they go out in public. These beautiful garments don't sacrifice fashion for comfort either; you can find fashion-forward styles and colors that you'll love wearing. Whether you're looking for a bright and colorful or subdued design, there's sure to be one perfect for your taste. And since these designs typically have loose pants and capris, women find themselves more comfortable than when wearing an ordinary dress or skirt.
2) How to wear rompers with sneakers
Rompers are the perfect beachwear–they're comfortable, stylish, and easy to pack. But what do you do when you want to transition from the beach to the boardwalk? Throw on a pair of sneakers! Rompers look great with a pair of low-top or high-top sneakers. Just make sure your shoes are clean and classic so they don't overpower your outfit.
Pairing a romper with sneakers is perfect for day-to-night looks. Make sure your romper has hidden pockets, so you can stash a few essentials on your trip. To dress up your ensemble and make it appropriate for dinner or drinks, add jewelry and heels! Tuck your romper into shoes that match its color or go with some cute sneaker wedges. Experiment with different styles until you find what works best for you.
Here are a few tips to get you started:
Accessorize with a bold necklace. Not sure what goes with your outfit? A statement necklace will let you know! Try adding dainty earrings or jewelry that is larger than your outfit. Matching accessories make it easy for anyone to pull together an outfit.
Romper length isn't as important as fit . Choose shorts and capris if you want to show off more leg, but skip them if you prefer wearing leggings or opaque tights underneath. Tuck your romper into high-top sneakers for extra style points, but wear low-tops without tucking in for casual comfort. The most important thing is picking out shoes that work well with your outfit and that suit your personal tastes.
3) Flip Flops
While rompers are undeniably cute, they can also be tricky to style. One of our favorite ways to wear a romper is with a pair of simple flip flops. This look is perfect for a day spent exploring a new city or going on a picnic. Plus, it's super easy to throw on and go! Here are a few tips for nailing the romper dress + flip flop look:
-Opt for a romper with a loose, flowing silhouette. This will help balance out the casualness of the flip flops and make your outfit look more put-together.Choose solid-colored rompers or those with small, delicate patterns.
Flip flops are obviously a summer shoe, but that doesn't mean you should feel limited by their warm weather reputation. Flip flops can look cute in colder weather, too! Switch out your summery pair for a pair of black or tan ones and wear them with chunky knit socks. For example, if it's fall, you could wear your romper with brown leather boots or ballet flats. If it's winter, add a jacket and roll up your sleeves.
4) Rompers With Denim
Rompers are back and they're better than ever! The denim romper is a trendy twist on a classic piece that can be dressed up or down. To rock this look, pair your romper with some ripped jeans and a denim jacket. Add a pair of statement earrings and some wedges for a night out on the town. For a more casual look, throw on a pair of sneakers and a jean jacket. Add a pop of color with your accessories to really make your outfit stand out. With so many ways to style them, it's no wonder rompers are one of this summer's hottest trends.
While rompers come in all sorts of colors and styles, denim is one of the most versatile. Denim never goes out of style and looks great with just about any top. Some other colors that look great on denim are black, white, pink and red. With so many cute rompers available at a variety of price points, it doesn't matter what your budget is; you can have an outfit for every occasion. Shop through some online retailers to find that perfect romper today.
5) Mini-Dresses
While rompers and mini-dresses may look similar, they are actually quite different. Rompers are one-piece outfits that cover the entire body, while mini-dresses are, well, mini dresses that only cover the top half of your body. Mini-dresses are also usually sleeveless, and have a short skirt at the bottom (often not even touching the ground). Mini-dresses typically have spaghetti straps, or some other type of shoulder strap. They can be worn as separates with a pair of tights or shorts underneath them if you're looking for a more modest option. If you find yourself in need of an outfit that is going to help keep you cool during these hot summer months then I would highly recommend trying out a romper dress.
If you're looking for a more modest option, then consider trying out a mini-dress instead. However, if you're looking for something that is going to keep you cool during these hot summer months, I would highly recommend trying out a romper dress. If you do decide on wearing a romper dress just be aware that some can run on the smaller side and tight fitting. So always be sure to check your size before ordering one online. If you really want to make sure it looks good try having it altered by an expert seamstress or tailor first.