The Best Lipstick Shades for Every Occasion
How many shades of lipstick do you own? Too many? Not enough? Once you've gotten past your basic nude, red, and pink lipsticks, it can be difficult to figure out which shades will go with which outfits or even what kind of lip color you're looking for on any given day. If you're looking to expand your collection of lipstick shades and are interested in finding the best lipstick shades available, read on to find out how to choose lipstick shades based on your personality and style. Then discover how to add to your collection without breaking the bank!
Perfect red pouts
For example, when you're going to be out during daylight hours, wearing a dark lipstick shade can make you look washed out. Instead, opt for something more light and pink. When it comes to special occasions—whether it's an evening wedding or your child's play—you have tons of options. A bold red or dark berry is always appropriate but if you don't feel confident in those shades, try a deep rose or plum instead. You won't go wrong with any of these versatile shades on your lips.
Dark lipstick shades are usually best reserved for evening events and nighttime wear, especially when you're looking to get really dressed up. Dark pinks and purples, as well as deep burgundy and berry shades, complement darker skin tones while lighter options make fair-skinned ladies pop. If you have darker hair and eyes, consider wearing a burgundy or plum lip gloss in lieu of a traditional dark lipstick shade. It will give you that deep berry look without creating an overly dramatic appearance. In general, bold colors like blue, green or red should be avoided because they can make your teeth appear yellow or duller than they are naturally. Stick with lighter shades—especially nude tones—and let your natural smile shine through!
Trendy pink lipsticks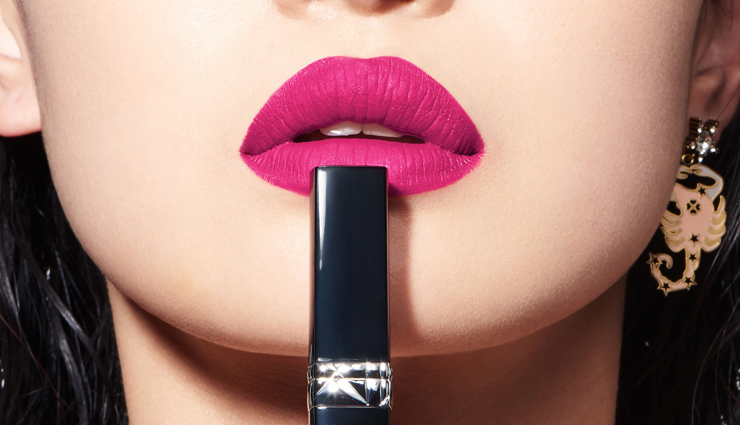 Pink is a fun and playful color, but it's certainly not meant for every occasion. Light pink shades are best worn during parties or lighter celebrations such as baby showers or birthdays. Pinks with a darker hue should be reserved for more formal events such as weddings or evenings out on town. Be careful when matching your lipstick to an outfit; you don't want your look to fall flat! If you're going out in formal dress, stick with light pinks—they'll create a classic contrast against black. For something less formal, find deeper pinks that make your lips pop. As always, makeup should match your personality! Pink is known to be feminine and flirty so don't be afraid to let that show!
Statement orange looks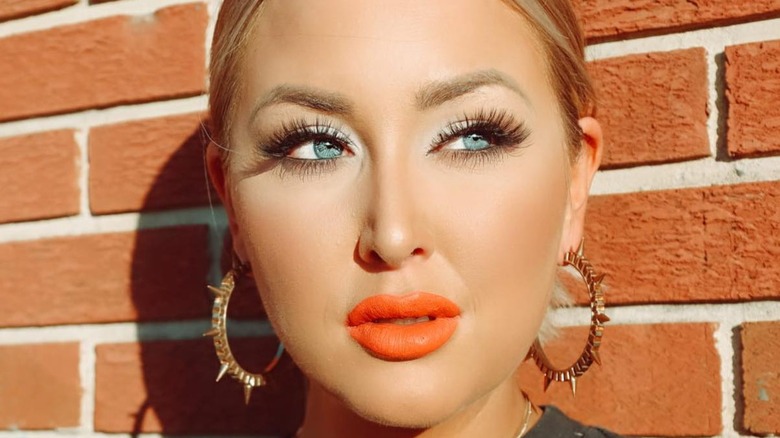 Statement orange is a lovely, bright color that can look great on light and dark skin tones alike, provided you choose the right tone. If you're thinking of going bold, opt for warmer hues (like apricot or peach) that are universally flattering and look best when paired with minimal makeup. If you have fair skin with golden undertones, go with a deeper shade (think terracotta or pumpkin) that flatters your complexion and makes blue eyes pop. Darker complexions should go with red-orange shades like coral, fuchsia or red—they'll bring out your natural radiance. Statement orange looks fabulous when paired with trendy dip-dye hairstyles.
There are many more shades of orange out there, from deep red-orange tones to sunny yellow-orange hues. Some of them look best on darker skin, some go better with lighter complexions. No matter your tone or preference, there's a shade out there that's perfect for you! Here are some of our favorites:
Due to its cool undertones, it flatters light and medium complexions while bringing out blue eyes and making green eyes pop. If you're fair-skinned with golden undertones, terracotta is your shade—it's warm enough to blend in seamlessly with yellow tones but still sheer enough not to wash you out.
Nude lipsticks for every occasion
Lipsticks are your best friends! Nude lipsticks are becoming popular in recent years. Nude lipsticks are very flexible and suitable for every occasion. For instance, if you want to wear lipstick shades during parties, you should apply bright reds as well as orange-reds because they will bring you more sense of freshness and vigor. On one hand, if you want to use light lipstick shades during night, it is better to choose fuschia red or any other brighter colors. As for choosing suitable shade when wearing formal dresses, we can choose nude or beige lipsticks; they would create a look that is elegant and romantic with our dresses.
When it comes to choosing nude lipsticks, one should not be too careful and try out any light shades. Different people have different skin tones. Therefore, everyone must choose according to their skin tone. With light lipstick shades, you would look pale and exhausted if your skin is dark; otherwise, you would look very harsh when your complexion is light. Furthermore, some high-lighted women cannot wear such light lipstick shades as they are afraid of being ridiculed by other people.
Think outside the box with bold blue lipsticks

When you're heading to a party, it's easy to stick with conventional reds and pinks. These shades are tried-and-true, after all. They're safe and effective. There are times when playing it safe is worthwhile (like in your work life), but if you want to inject some fun into your love life, make sure you're doing so with lipstick that matches both your style and personality.
Like with many other fashion items, lipstick can say a lot about your personality and make a statement of its own. Bold blue lipsticks, for example, can be great if you want to show off your playful side. They're not exactly conventional in most circles, but that's part of their appeal. The right shade of blue can also draw attention to your eyes and make them pop. Depending on how daring you are, it could help make you look more fashionable or mysterious—both strong qualities in an intimate partner.
You don't have to play it safe: Of course, if bold colors aren't really your thing (or they clash with what you plan on wearing), there are still plenty of options available in your makeup bag.
Bronze lips and beyond
Just because you're not wearing a formal dress doesn't mean you shouldn't wear lipstick. You can still choose to wear it! If you want to know what lipstick shades are perfect for everyday and during parties, read our guide on how to apply and which products work best. We tell you what makeup is best suited for which occasion, so you can look your best at any event.
There are many different lipstick shades to choose from, and they can be applied in various ways. If you know your skin tone and undertone, you'll have an easier time choosing which shade is right for you. Pale skin with a rosy undertone will look best in cool-toned shades, whereas darker skin tones should stick to warm-toned hues. Go out into daylight or natural light so that you can really see how your complexion looks when wearing different lipstick shades. If you want to know more about applying lipstick correctly, refer to our guide on how to do it properly, but we also go into depth about lipstick types based on color and finish.